State Medical Board of Ohio License #13737. Member of the American Massage Therapy Association


Carrie Bezusko is a massage therapist licensed by the State Medical Board of Ohio (license #13737). She received her training from the American Institute of Alternative Medicine in Columbus, Ohio (formerly Massage Away School of Therapy).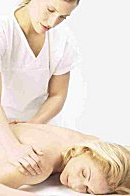 A member of the American Massage Therapy Association, she is skilled in providing relaxation (Swedish) massage, as well as therapeutic/deep tissue massage and Neuromuscular Therapy, including techniques designed to help alleviate the pain and discomfort associated with many common muscular disorders.

While the majority of Carrie's massage sessions are offered at her 106 N. Court Street location in Marysville, she is also pleased to offer on-site chair massage services in the Central Ohio area. Chair massage can be a great way to reward employees, thank your best clients, or add a little flair to any special event.

In addition to her training in massage therapy, Carrie holds Bachelors degrees in both English and psychology from The Ohio State University. She also has a background in marketing, including an extensive portfolio of writing, editing, and graphic design projects. She continues to do freelance work through Studio 2, based in Central Ohio.